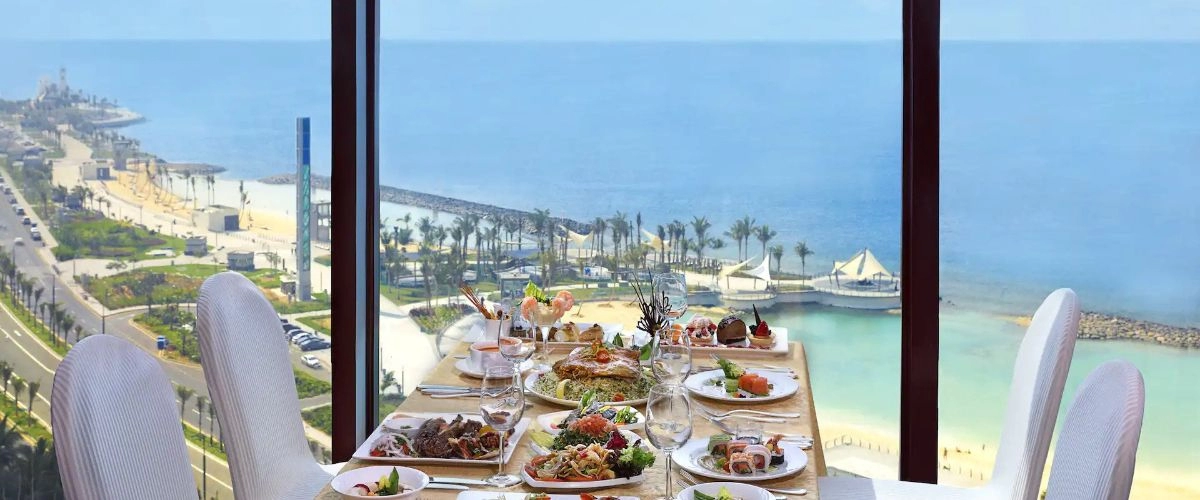 Jeddah is one of the most popular places for tourists from different parts of the world. The city offers a number of different tourist's destinations, wonderful landmarks and beautiful sights for its tourists. There are a number of hotels and restaurants to further facilitate and provide ease of accommodation and eating to its visitors as well as locals. When you are to decide where to eat there are numerous excellent options in the city of Jeddah. one of the most popular restaurant in the city is Hilton Hotel Restaurant. It is the perfect place to dine in with your friends, family and loved ones.
Hilton Hotel offers you a variety of different restaurants. Among these one of the most well liked one is the Amwaj Sur Mer Restaurant. Whether you are on a holiday tour with friends and family or are on a business trip, the Amwaj Sur Mer Restaurant is the ideal for both. It offers a amazing view of the Red Sea as it is located on the top floor of the hotel. Other than the pleasant view it offers, the inner ambiance of the restaurant itself is quite pleasing and the restaurants is elegantly designed to give the perfect look. The restaurant serves the best French cuisine and its specialty dish is sumptuous bouillabaisse in company with a steak with baernaise sauce which is a must to try.
A perfect place for snacks and a cup of coffee or tea is the Cafe Vienna Plaza in the Hilton Hotel Restaurant in Jeddah. There you can enjoy everything from sandwiches, pastries, cakes along with delicious coffee or tea. Al Safina Restaurant is also a part of the Hilton Hotel Restaurant in Jeddah. The restaurant serves one of the best international buffets, Persian and seafood theme evenings. If you would like to have burgers, steaks, doughnuts and other American food, then you must visit Manhattan American Diner in Hilton Hotel Restaurant.
Al Khayam Iranian Restaurant serves the Persian cuisine including Kebab, lentil soup, kubideh and much more. The overall ambiance of the restaurant includes striking Arabian tent, chandelier and other related stuff. Hilton Hotel Restaurant also serve you with Lebanese, Arabian or even international cuisine at the La Terrace.
So in all the Hilton Hotel Restaurant is perfect place to suit anyone's tastes and desires for the variety they serve.